---
Chantilly, France
Although I grew up only a few miles from excellent sandy beachs on the shores of Lake Michigan, I have to say that I have mostly not been much of a beach person. I enjoyed the occasional outings for picnics and hikes but sitting for long periods in the sun has just seemed like little more than a waste of time, especially as a way to spend a vacation.
My attitude towards the waterfront, or at least certain waterfronts, changed in January of 1999 when I was in Egypt visiting friends Peter, Shannon and their baby daughter Abby. They had the wonderful idea of spending some time at the Red Sea in the waterfront town of Nuweiba on the Sinai peninsula. That trip is worth an entry in itself, but suffice it to say that it was in Nuweiba that I discovered the coral reefs of the Red Sea. I purchased a mask and snorkel at the hotel shop and spent wonderous hours discovering the reef.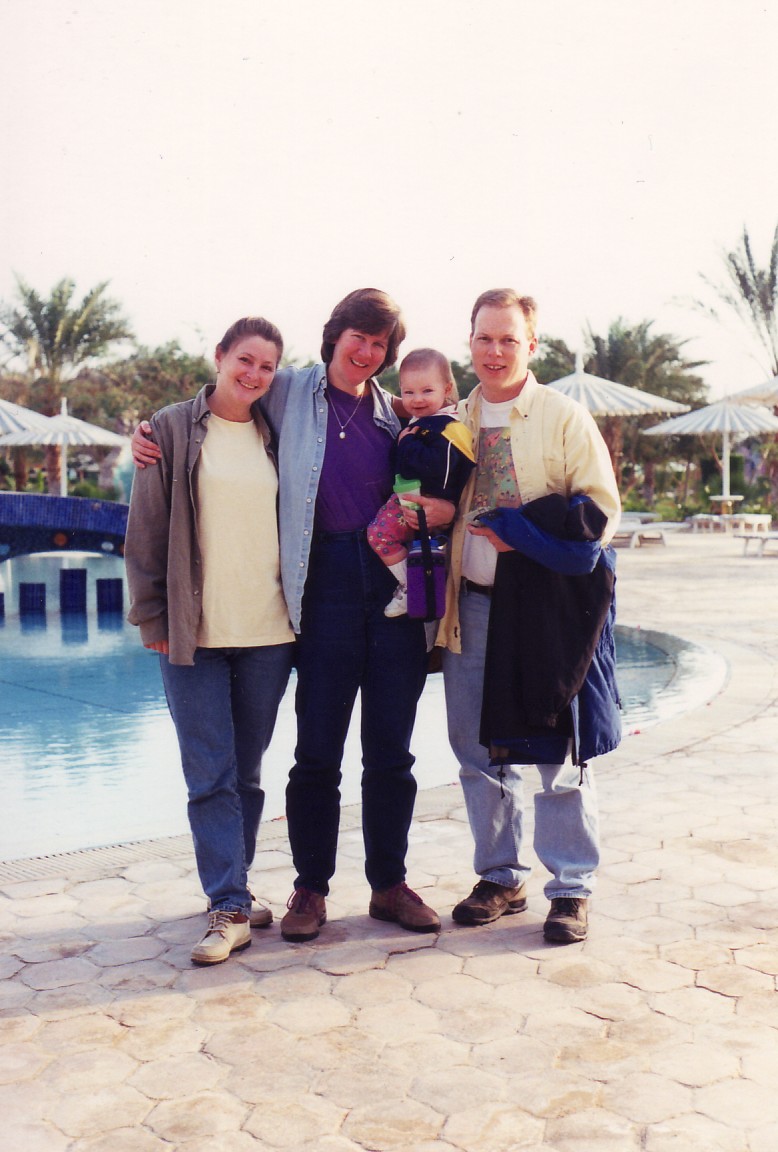 (The Vogelaars and friend at Nuweiba)
I don't remember exactly when I was first introduced to windsurfing. I vaguely remember experimenting on an outing, once again with Peter and Shannon but this time north of Shannon's parents' home in Brighton Michigan on a small lake. I don't think I got very far beyond managing to stand up on the board.
My experience in Nuweiba happened during my second period of residence in France and a colleague of mine at that time got me interested again in windsurfing as his wife had gotten him involved and he was making good progress at it. I may have tried a few times, one at his cottage on the English Channel, and another on a beach in Normandy, but both times were unsuccessful due to the high swells which kept throwing me off balance.
What inspired me to vacation in Sharm El Sheik at the tip of the Sinai in January of 2000? Probably my experience in Nuweiba. I really wanted to see more coral. And I decided to try and do some windsuring. As for the coral, I definately wasn't disappointed. And I was able to visit the national park at Ras Mohammed which is a well known marine park. I was also able to do some windsurfing and got as far as standing upright and moving forward although turning remained problematic.
Later in July of 2000 I vacationed on the island of Malta. Although the underwater world is not as spectacular as the Red Sea I still enjoyed snorkeling under the summer sunshine. And I took lessons this time in Windsurfing and made quite a lot of progress. I was able to get through turns, mastered the use of the harness and even started on the beach start. I was thrilled enough to buy myself my own harness on the spot.
In October of that same year I travelled back to the Red Sea to the seaside village of Safaga, south of the city of Hurghada. I continued working on my windsurfing skills and enjoyed a day of snorkeling around an off-shore reef.
In June of 2001 I travelled to the south of the island of Corsica for more windsurfing but never managed to reach the next level with the water start.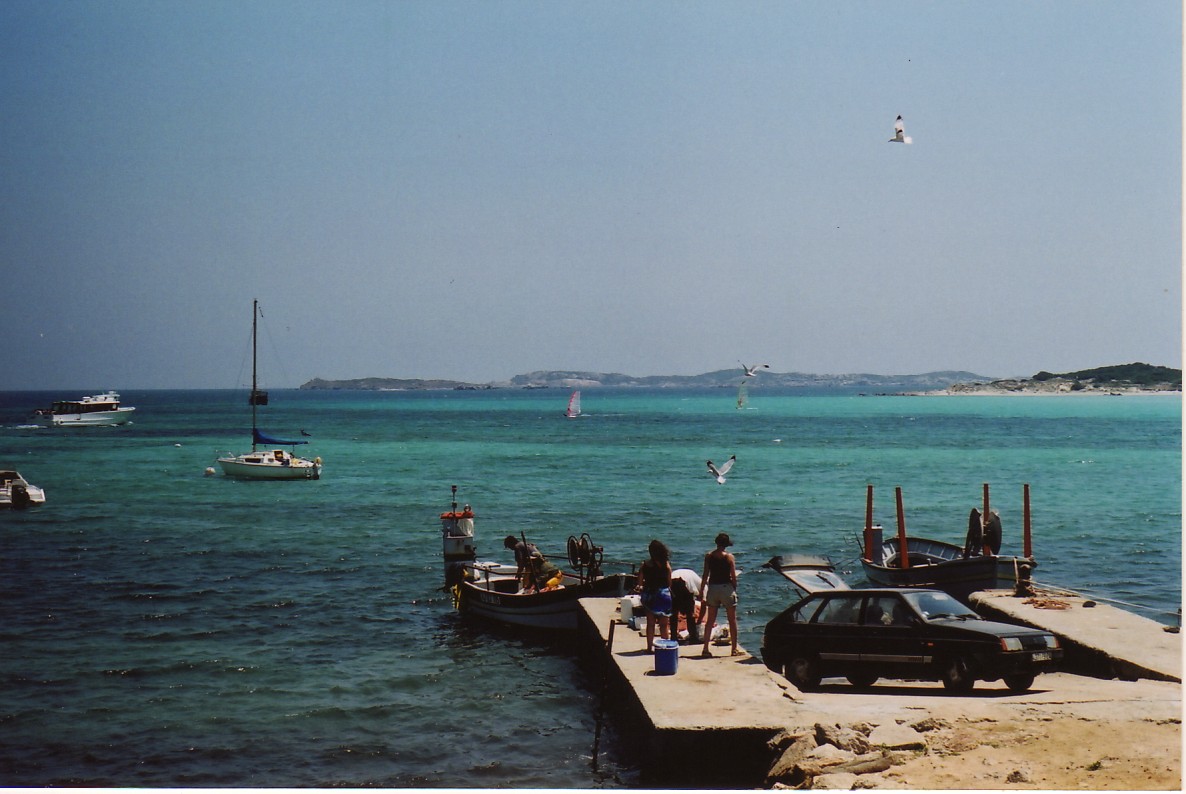 (Windsurfing bay near Bonifacio in Corsica)
I had planned to travel to Dahab in the Fall of 2001 but cancelled this trip due to the terrorist attack on the twin towers in New York City on September 11. In the Summer of 2002 I broke my leg due to a Rollerblading accident and this pretty much deflected me away from risky sports for a while. Although the accident left me with a persistent discomfort in my left leg, it was not debilitating and was able to start downhill skiing again sometime after moving to Germany in 2003.
So it's been 7 years since I was last windsurfing and 8 years since I have been to the Red Sea. How time flies! In a few weeks I'll be going back. I have my sights set once again on Dahab.
Windsurfing is a physically demanding and except for some swimming a mostly anaerobic sport. My memory can recall a great deal of muscle aches and pain after a day of windsurfing due to the physical exertion. I have never been able to do as much surfing as I had hoped due to my own physical limitations, but on the other hand, I don't recall ever having prepared much before these vacations. This time I have joined a fitness club and have following a course of weight lifting with the aim of reducing the amount of muscle ache to a manageable level in Dahab. We'll see if I succeed.
I'm hoping to break through to the next level of Windsurfing which is the water start. As Dahab has a shallow lagoon, it seems encouraging as a location suitable for learning the water start.
I also have a list of fish I'm hoping to spot while snorkeling. I've never seen an Octopus in its native habitat and I would be thrilled to see a shark or a sea turtle. Seahorses are also something I have never seen although I have searched for them, especially in Malta. Seeing an electric ray would be something special as would a crocodile fish. Spotting and identifying a stone fish or a scorpion fish is a stretch goal. A second sighting of a Manta ray, eagle ray, and Moray eel would also be exciting. Becoming reaquainted with barracuda, pipefish and cornet fishes would be a treat.
Being able to spot and identify some of the less extraordinary species would be great also, such as jacks/trevallys, bat/spadefish, bluestripe snapper (which I think I spotted once in Safaga)
I fully expect that I will see lion fish, clownfish, parrotfish, hawkfish, sandperches, lizardfish, surgeon fish, trigger fish, puffer/trunk fish, goatfish, blennies, flounders, anthias, fusilier, butterfly/banner fish, angelfish (royal, emperor, yellowbar), wrasses (cleaner and others), groupers, reef stingrays, and damselfish.
O.K. so the objectives are set. Let's see if I'll meet any/some/all/none of them.
RB