---
Chantilly, France
After four years of living in Chantilly it is time for a change. I've decided to become more social, let's just say I want to experiment in communal living in a manner of speaking. In July my significant other and I decided to make a plan to live together. Her apartment in Paris, at fifty square meters, sadly runs counter to my American inclination towards vast open spaces. But seriously, I do feel the need for some clearly demarcated personal space and furthermore her apartment is just not well situated for me to get to my place of work some 60 kilometers north of the capital. On the other hand, my apartment is too far outside of Paris for her to get to work and remain in close proximity to friends and all of the benefits of city life.
I enjoy living in Chantilly - for its provincial charm, its stately castle, gardens and royal stables, the Saturday market with not one but three stands selling fresh fish and that stand specializing in locally made goat cheese. The surrounding forest and countryside, full of ponds and mostly gently sloping rises are just perfect for long bike rides on weekends and after work during the warmer seasons. During my rides, I have often seen big game animals, wild boar, stags, red deer and roe deer, a fox or two, the horses in the fields and stables. The fauna is just as interesting with beautiful wild flowers blooming in Spring including carpets of wild daffodils, and many wild Orchid species. The smell of the Linden trees in bloom is unforgettable. One learns to avoid the sandier ground when on the bike and the places where water collects and muddy patches form after raining for several days at a stretch. There are many quaint medieval villages in the area to discover, each with its Romanesque or Gothic chapel and its "lavoirs". I love the experience of discovering a new route, a new glade in the forest, a new vista.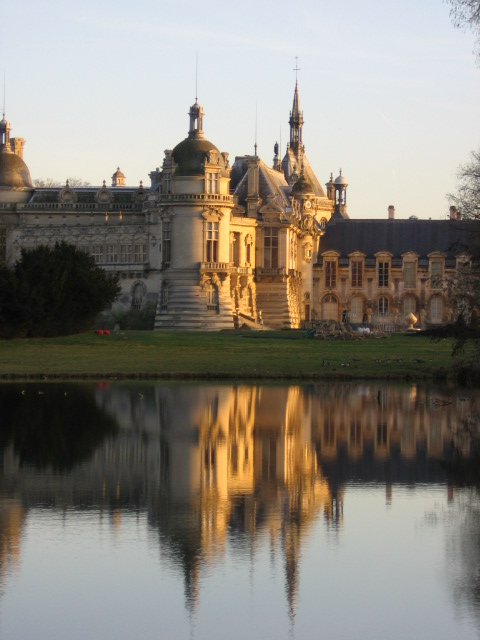 (The Chateau of Chantilly)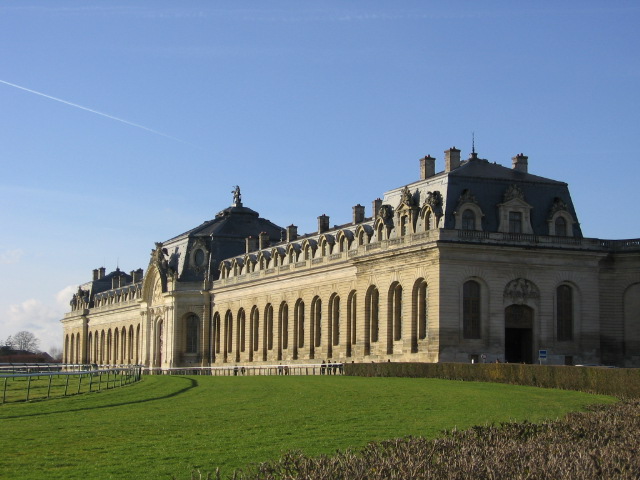 (The Royal Stables of Chantilly)
But with time comes familiarity so I suppose that it's only natural that today it seems not quite as exciting as it was at first, as new paths and vistas start to become more and more difficult to find. Oh, it's by no means a place that I've become tired of, but rather a place that I can leave, knowing that I have been able to take advantage of many of the good things it has to offer.
So I'm off to become a Parisian ... again. I've already had four different addresses in Paris, or in its inner suburbs. My first on the east side on the fifth story of a charming building "sans ascenseur" in Vincennes not far from the Parc de Vincennes and with the castle turret visible from my window. The second was a brief stay in a rather gloomy lower floor apartment with a northerly exposure near the Trocodero in the 16th arrondissement. I spent a year living on the west side in Neuilly just across the street from the Bois de Boulogne "holding down" a spacious luxury apartment with a terrace over looking the towers of la Defense for a senior colleague who had a dream to return to it one day. And then I went farther west, to the other side of the Bois living for four years in Suresnes in a more modest, but comfortable furnished apartment. Those were the days of the expatriate assignments. This time I'll be going back as a "local", without the assistance of relocation specialists. It won't be the first time I've done a European move solo as I organized my last move from Stuttgart to France on my own. And this time I'll have the benefit of good company.
I have never purchased property before so for this project I had to be sure I was ready for an adventure, even more so being in a foreign country. I felt confident that my language skills and general knowledge of the society were good enough to be able to sufficiently negotiate the ins and outs. I know of course far more now about buying property in France than I do in my own country. I'm quite sure after some cursory reading through guidebooks specializing on the American experience, that most of the underlying principles are the same, with many of the details being different.
The first step for Karine and I was to decide how to narrow our search for a home. Our home needed to be strategically located so that Karine's commute to Porte de Vanves on the southern edge of the city would be no more than 45 minutes, and so that I could gain easy access to the freeways leading out of Paris to the north and towards the provincial town of Compiègne in Picardy which is were I work. Proximity to public transportation was important for Karine with as few transfers as possible. So we traced metro line 13 which is not far from Karine's place of work northwards until it came into proximity with the freeway heading out of Paris in my direction. Ok, so admittedly social class was also a factor - largely immigrant and working class neighborhoods dropping out of the picture somewhere along the way (despite the temptingly affordable prices). We sadly did not find our diamond in the rough! So the search for the most practical option directed us to the north west inner suburb of Asnières-sur-Seine with some consideration given to the peripheral communities of Bois-Colombes and (to a lesser extent) Colombes. Asnières is far enough north to provide a more or less quick route by car out of Paris for me and is well served by the metro line 13 and the trains destined for the Gare Saint Lazare. If you looked at map you might wonder why we didn't consider Gennevilliers or Saint Denis which are also served by the line 13. Well, it's back to that little matter of social class ...
Our next step - to find out if there is anything on the market in Asnières that we like and that we can afford. There are different approaches to prospecting - relying on an agent, periodically scanning the classified ads in newspapers and flyers, wandering the neighborhood streets looking for "for sale" signs, or reading the postings outside of the realtor offices. We chose a less sportive method, signing up to realtor internet sites offering the ability to search listings based on personalized search criteria like surface area, price, number of bedrooms, etc. Our favored sites offered search engines that would automatically send e-mail alerts as soon as new listings appeared that matched our criteria. I would create sub-folders by realtor to which my e-mail software would automatically sort and direct the alerts based on rules such as sender address. When new alerts came in, the folder name would appear in bold until I read through all of them. I would sort through the alerts and forward the ones I took an interest in to Karine who then evaluated them herself. For those that passed our collective criteria, we would organize visits (mostly on Saturday as it is difficult for me to get to Paris in the evening on a regular basis). One of our most productive sources was a site specializing in properties being sold by the owners (www.pap.fr). Here we found two properties on which we made offers but which for different reasons didn't amount to anything. In our particular case, we had better luck with a realtor. In France, we never came across the concept of a realtor working solely on behalf of the buyer as I believe happens in other countries. A seller can work with multiple realtors in listing a property, and a buyer feels no particular loyalty towards any one realtor in searching for a property. You generally end up working with the realtor through whom you discovered the property. We never felt that we could rely on one realtor to offer us a sufficient selection of properties.
We went through over 20 visits before finding a property we were ready to make an offer on. We benefited from each visit in developing and refining our list of criteria. We considered the importance of storage, parking, covered and uncovered, the size of the bedroom, the number of rooms, on what floor an apartment was situated, exposure to sunlight, etc. Our mutual "coup de coeur" was elusive. We looked at both apartments as well as houses. I was attracted to the independence of owning a house and particularly seduced by the French villa, especially those made of brick or decorated with brick, and let my sentimentality carry me away. Asnières and the surrounding communities have residential neighborhoods in which these villas are common, often built in the 1930's for the working class. The villas in our price range, although often quaint, also mostly needed fixing up or required significant makeovers, and had impractical layouts and small rooms. Apartments in late 19th and early 20th century buildings also captured my imagination, especially those with interesting facades, but the layouts were also often equally impractical and the buildings often lacking in essential conveniences such as elevators. Karine, unencumbered by the notions one has as a foreigner, kept a cooler head. Having lived many years with her parents in a home undergoing restoration, she was loath to undertake a project requiring significant fixing up. In the end we gravitated towards modern apartments with good storage and more practical layouts.
Once you find an apartment for which you are ready to spend money, you first enter into a non-binding negotiation with the realtor in the case the seller is using one, or directly with the seller if no realtor is involved. Through the course of our visits we built up our stock of market intelligence, getting to know neighborhoods and keeping track of the asking prices of different apartments and calculating prices per square meter.
After having visited some 30 odd properties we ended up seriously considering 3 apartments and one house. The house had charm and was located on a nice block, but unfortunately no storage and no parking. We kept it in the back of our heads as we considered other properties. We were still trying to figure out what we considered a reasonable price for an apartment when we stumbled across one at the end of a long day of visits in a neighborhood close to the attractive 19th century town hall. Upon visiting the apartment we both sensed that it was a good value and met almost all of our criteria but we were, in the end, too late to negotiate a price as a buyer had already beat us to the finish line with an offer which was acceptable to the owner. We had a second somewhat similar experience with an apartment in the same neighborhood but which was different in that it was more expensive and better appreciated by Karine than by myself. True, it was sell located in a quiet neighborhood with terraces on the North and South but I found the living room too small for my liking. We entered into non-binding negotiations but were out-bid.
So the search went on ...